CANOE HIRE ON THE RIVER WYE - BOOK NOW!
TELEPHONE - 01600 891199
So you want your own River Wye Canoeing Adventure? You've come to the right place!
We are the River Wye canoe hire company that has it all!
Perfect riverside location on the banks of the stunning River Wye at Kerne Bridge.
BCU Level 3 coach and swift water rescue technician always on duty, for your safety.
Extensive fleet of Old Town 2, 3 and 4 man Canadian Canoes.
RTM single seated kayaks.
Single and double sit on top kayaks.
On site shop selling refreshments and canoeing equipment.
25 years experience.
Our friendly, experienced staff will help your river wye canoe hire trip run smoothly, greeting you with a smile and a flexible approach.
All our 'River Wye Canoe Hire Trips' and 'River Wye Canoe Hire Information' are ordered below...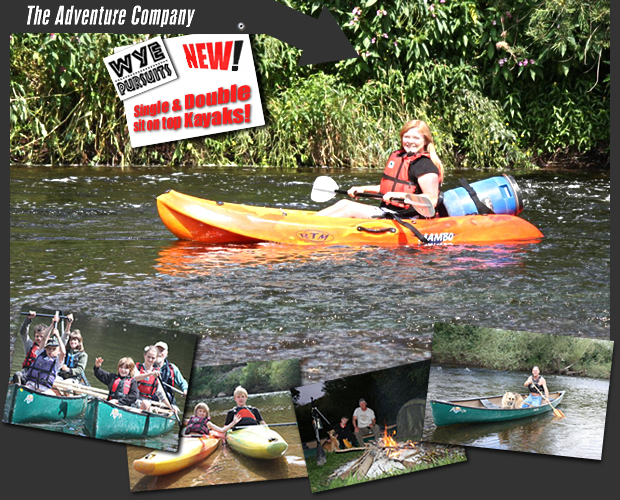 Click any title below, for 'River Wye Canoe Hire Information' and 'River Wye Canoe Hire Prices'...
+ Our Centre to Symonds Yat - 9 miles
- Our Centre to Symonds Yat - 9 miles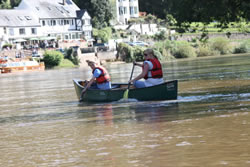 Starting from our centre at Kerne Bridge this stunning trip takes you through the spectacular Symonds Yat Gorge past Coldwell Rocks, where the peregrine falcons nest and are often spotted circling above.
The beautiful scenery and wildlife make this a truly wonderful trip.
This is a half day trip that will take you approximately 2.5 - 3 hours, you may prefer to take a full day and enjoy the beautiful scenery and stops along the way. At the end of your trip we will return you to our centre.
+ Ross on Wye to Our centre - 7 miles
- Ross on Wye to Our centre - 7 miles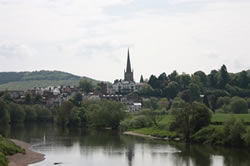 Starting at the picturesque market town of Ross-on-Wye, the river gently meanders through beautiful scenery, taking in the spectacular Goodrich Castle along the way.
A quieter section of the river with an abundance of wildlife, you may see the shy otter fishing or a flash of blue as the kingfisher darts ahead of you.
This trip will take you approximately 2 - 2.5 hours. You will meet at our centre and be transported to Ross on Wye to begin your adventure.
+ Ross-on Wye to Symonds Yat - 16 miles
- Ross-on Wye to Symonds Yat - 16 miles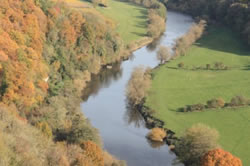 A combination of the two trips above to make a full day with the advantage of a picnic or pub lunch along the way.
This is our most popular full day adventure!
+ Hoarwithy to our Centre - 18 miles
- Hoarwithy to our Centre - 18 miles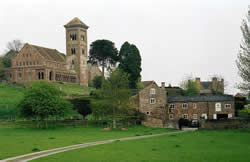 This fantastic trip begins in Hoarwithy, overlooked by the unusual Italianate byzantine Church. The trip will take you through beautiful countryside, reminiscent of rural France, and enable you to stop for lunch at the picturesque market town of Ross-on-Wye, or you can find a quiet spot to picnic along the way.
This full day adventure is ideally suited to those people with some previous canoeing experience or you could choose a more leisurely pace and spread it over two days, with camping and B&B's available in Ross-on-Wye.
+ Our Centre to Monmouth - 14 miles or to Redbrook 17 miles
- Our Centre to Monmouth - 14 miles or to Redbrook 17 miles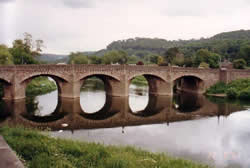 This exciting full day trip takes in the spectacular Symonds Yat gorge and a decent of the famous Grade 2 Symonds Yat Rapids. Passing through the very pretty hamlet of Symonds Yat East, where you can stop for lunch at the famous Saracen's Head pub, before continuing your journey over the turbulent waters below.
This trip is only suitable for experienced paddlers in either kayaks or 2 man canoes and unfortunately is not suitable for small children. At the end of your trip we will meet you and return you to our centre.
+ Hereford to our Centre - 35 miles
- Hereford to our Centre - 35 miles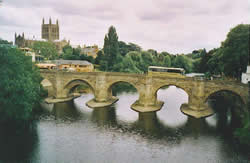 Your two or three day adventure will start at the Cathedral city of Hereford, the home of the famous Mappa Mundi. You will paddle 18 miles downstream to spend the night at the lovely riverside village of Hoarwithy, which offers a choice of camping or bed and breakfast accommodation and a friendly pub which offers great food.
Then you will either spend following day making your way back to our centre or stop at Ross on Wye for another night under the stars, or for the less adventurous a night in a cosy B&B or hotel, before the final leg of your journey.
You do not need to be 'superfit' for this paddle, although a reasonable level of fitness is required.
+ What To Wear
- What To Wear
- Wear comfortable clothes, layers are always a good idea. Avoid jeans!
- Comfortable footwear that are secured to your feet. No wellington boots or flip flops!
- Bring a warm/windproof jacket or a fleece with you.
+ What To Bring With You
- What To Bring With You
- Water – Water/refreshments are available to buy in our shop.
- Suncream – Water Reflects 100% of UV light, you can burn easily on a warm day.
- Food – A light snack for a half day trip or maybe a picnic if you are having a full day adventure! Light snacks are available to buy in our shop.
- A warm fleece or jacket just in case!
- Make sure you bring a towel and a change of clothes to leave in your vehicle..
- A mobile phone is not essential but is a good idea to take with you, this is at your own risk and discretion.
+ FAQ's
- FAQ's
Are Dogs Welcome?
Of Course! Well Behaved Dogs are more than welcome providing there is space in the canoe. Large dogs are not advised. All we ask is that you remove the lead whist you are on the water.
Is There a Weight Limit on Canoes?
There is a Maximum of 3 Adults in any one canoe. Total weight limit is around 35 stone.
What is the Minimum Age?
Depending on the temperatures and weather conditions we allow children over the age of 4. Providing they correctly fit one of our Child's Buoyancy Aids and are able to swim a minimum of 25 meters.
Can we stop off for lunch?
On a full day trip you are able to stop for lunch, either a picnic or maybe a pub lunch. On a half day trip you will not have time for anything more than a snack, you should have lunch either before or after your trip.
We've never done it before. Can we go?
Canadian Canoes require no previous experience. Kayaks however will only be hired to those who have had previous experience and we deem competent. There is a 25 meter swimming requirement.
Is there somewhere to park?
There a car park situated next to us.
Do we need to book?
Ideally yes. We do get very busy. But you can always turn up to our riverside centre and we will do our best to get you out onto the river.
+ Some Points to Consider When Planning your Trip:
- Some points to consider when planning your trip:
Unless you are on an instructed trip, you are responsible for your own safety on the river and for all the equipment.
Previous experience and fitness. If you have not had much canoeing experience, start with a half-day trip, full days and multi days can be tiring if you are not used to paddling.
In the event of a capsize. Are you confident in river water conditions? We have a minimum swimming requirement of 25 meters.
If you have young children with you, are you confident of managing their safety in a river environment?
Alcohol/drugs and water do not mix. We will not proceed with the hire if we think someone is intoxicated. Celebrate at the end of your trip!
Hire on the day is subject to river levels and river conditions, if cancellation of your hire is necessary due to adverse weather/river conditions we will try to offer you an alternative date or refund any monies already paid.
Wye Pursuits have £5million public liability insurance cover in the unlikely event of negligent advise. We do however strongly recommend that you take out your own personal accident insurance.
Wye Pursuits recommend that you DO NOT bring valuable items, cameras, ipods etc along with you, as in the event of loss or damage Wye Pursuits will not be held responsible in anyway.
If you require any information, please do not hesitate to get in contact with Wye Pursuits.