Find Wye Pursuits Canoe Hire Centre on the River Wye
Canoes, Kayaking, Camping & Plenty of Fun!
Wye Pursuits is the 'Premier' canoe hire & outdoor adventure centre based on the river wye. We are very easy to find, but please do not hesitate to contact us if your not sure.
The Google map and address below will give you a good idea. See you soon!
Wye Pursuits Ltd.
Riverside House,
Kerne Bridge,
Nr. Ross On Wye,
HR9 5QX
Tel: 01600 891199
Email: info@wye-pursuits.co.uk
Directions:
The quickest way to get to Wye Pursuits is to head along the A40 road which connects Monmouth with Ross-On-Wye. The next road you need to get onto is the B4229, which will then allow you to connect to the B4234. Carry along that road and you will soon come to Kern Bridge and then at the junction turn right, and travel past the 'Inn On The Wye' pub on your left. Not too far on your right along that road, you should see the 'Wye Pursuits' sign and the wooden gates for entry to the public car park.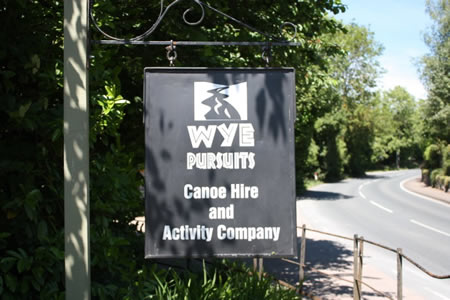 Keep a look out for our sign...